Mitch and Mark are no strangers to The block and returned in 2022 to visit the next generation of remodelers taking on Hallway Week's gigantic challenge.
The dynamic duo know how tough this week can be, as it involves the enormous task of renovating hallways, laundry rooms, power rooms and mud rooms.
The pair – who finished fifth in 2019 before winning the series last year – of course made a very glamorous finish and also ruffled some feathers.
Their first stop was to visit Rachel and Ryan in House 2 and they were eager to find out how they did with the judges this season.
Stream the latest episodes of The Block for free on 9Now.
"We came last to the kitchen, then it all came together when we revealed the dining room," said Ryan, to which Mark joked, "They don't know anything about kitchens, that's okay."
They went into House 4 to see Dylan and Jenny, where Mitch dropped a little bombshell about their season at The Oslo.
"There are four weeks left, so you've passed the mark," he said enthusiastically to Jenny.
"And you slip to the other side, unless…"
"What?" asked Jenny.
"When we were at this point on The Oslo, which was the biggest build ever, we were told – this week it was – that they had added two more weeks to the end," said explained Mitch.
Jenny gasped and looked absolutely stunned by this little reveal, because as far as Scotty Cam is concerned, there will be no expansions in 2022.
"It's my friends, it's the moment Mitch broke the spirit of the nicest girl in The Block," Scotty said in voiceover.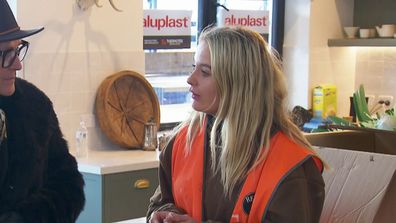 In Ankur and Sharon's House 3, Mitch and Mark couldn't quite hide their feelings about the couple's finished pieces.
"Too narrow", they said of the bedroom doors. "Confused."
EPISODE 32 RECAP: 'Fraudulent' document threatens team's chances of finishing
"My mom told me, if you don't have anything nice to say, don't say anything at all. I have nothing to say!" Mitch later said on camera.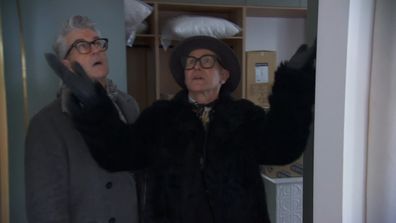 In Omar and Oz's room in House 5, Mitch and Mark's entrance hardly received the warm welcome they expected.
Turns out, the fan-favorite renovators have been eclipsed by the arrival of the Boys' Tiler.
READ MORE: Dan and Dani disappointed with the Blockheads living room and dining room
"If there was ever a time we wanted to see someone more than you guys, this is it right now!" Omar said.
Omar and Oz both hugged their tiler as he walked in, wrapping their arms around him and brushing Mitch and Mark.
"I heard that you boys are the kings of the bathroom?" Mark asked when the excitement over the tiler died down.
Oz jokingly replied, "Say it again, sorry?"
"When you win The Block, come talk to us!" Mark laughed.
In images, in pictures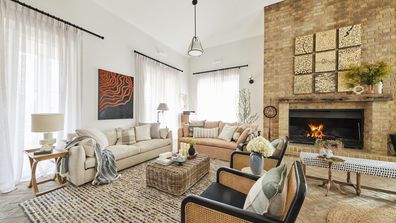 Renovation of Scotty's house so far
Bedrooms, bathrooms and more revealed.
See the gallery
The Block Room Reveals air Mondays at 7:30 p.m. and episodes will continue Tuesday-Thursday at 7:30 p.m. on Channel 9. latest episodes on 9Now.